How to Reset Canon Pixma MG3170
The reason why the Canon MG3170 printer flashes 7 times and reports a 5B00 error? This is also a question for many Canon PIXMA color inkjet printers, When the printer reaches a certain point (depending on the line mode different printers can be 3000 to 5000 copies), the Canon machine will warn before the error 1700. This is also a limit for the printer's low print, which needs to be reset for normal use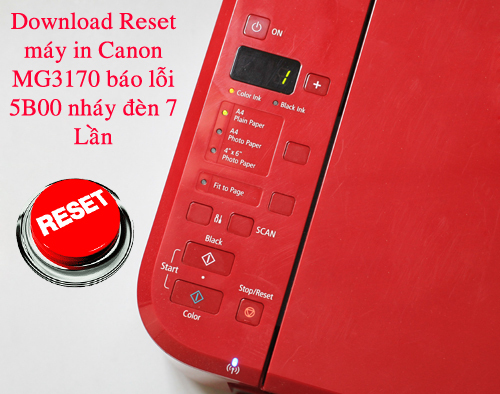 Currently, the Canon MG3170 printer reset software is used as a Canon Service tool, of which the ST V5302 version is the most used for ease of use, quick reset ensures the printer is not locked IC like other Fake software.
First, to reset the Canon MG 3170 printer, you must download the software: Free Download Canon Service Tool Pixma MG3170
Note: Before resetting, make sure the machine has not been used or use any other free software, it is imperative to use genuine software, to avoid being damaged Main.
To reset the Canon MG3170 you must enter the Service Mode of the machine:
Power off the printer but do not unplug it.
Hold the STOP button (arrow) and hold down the power button.
Continue holding the power button (Power) and release the STOP button.
Press the STOP button 5 times and then release the power button.
You will see 2 lights no longer blinking, at which time your computer is in Service Mode.
Note: wait until the power light (Power) is stationary.
Steps to Reset Canon Pixma MG3170
Set the Canon Pixma MG3170 Printer to Service Mode
Prepare 3 sheets of HVS paper in Printer Baking
Run the Canon Pixma MG3170 Resetter Application
Click EEPROM
In the Clear Ink Counter option, select Play and then click Set
In the Set Destination Region Select the JPN option then click Set
Done
Thus the Tutorial on How to Reset Printer Canon Pixma MG3170 which has a blinking error with error code 5B00. Good luck and good luck.